Application Enhancement
Our main aim is to provide the best and reliable software solution to our clients. Our capabilities and expertise are comprehensive covering every phase of the software development lifecycle.

Quality Assuarance Activities
Comprehensive quantitative process management and controlling. Includes functional testing, performance testing, black box and white box testing, unit testing, intergration testing, system testing and acceptance testing.

Search Engine Optimization
We intergrated search engine optimization process with each web developmet process. We have relatively unique and modern approach to Search Engine Optimization.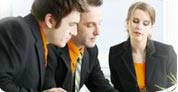 Financial Services for Our Client
We provide fully automated accounts package software which caters the Human Resource, Salaries and Accounts of the entire company and also with this package customer will be able to get custom reports according to their requirement.